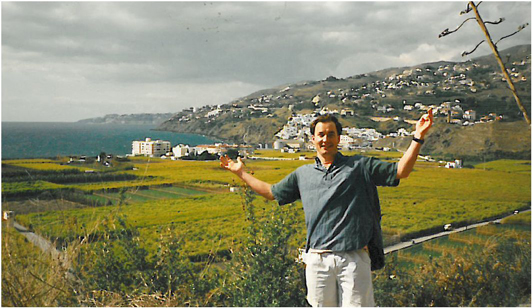 This scholarship was established in memory of Daniel Sinclair Bredahl, a journalism major at the University of Florida. While studying at UF, Dan wanted to pursue a career in international journalism. His desire was not only to report on different cultures but also to work to bring cultures in contact with each other. His freshman English teacher wrote that Dan "pursued the purest of all quests – that of knowing himself through his curiosity and wonder about what was around him." He always asked, "What should I expect of myself?" Abstract theories did not interest him; rather he was excited by new experiences (rappelling in Jaipur, India, or eating squid with Japanese fisherman) and by his relationships with people he met throughout the world (from bar owners and poets to his "roommates" at home and abroad). Dan dreamed of a world where people worked toward understanding each other. Although his passage was short, it was as wide as the world. His journey is still alive in the hearts of those who knew him; it is just beginning in the lives of those who will come to know him through these scholarships and their own experiences as "citizens of the world."
Application Information
The Daniel Sinclair Bredahl Scholarship is awarded to students who have thoughtfully chosen a program that has strong connections to their goals and will allow them to have a culturally rich international experience. In your essay, please discuss why you chose your specific program and how elements of the program, culture, language, etc. relate to your academic, professional, and/or personal goals.
Eligibility
3.0 GPA
University of Florida undergraduate students
Students studying on any Semester or Academic Year long program
Application Requirements
Statement of Purpose
(500 words max)

The quality of this essay portion is crucial; only eligible applications will be forwarded to the donor, so this part plays an important role in the selection decision. Outlined below are topics to discuss in your statement of purpose.

Academic and Career Objectives: Explain your professional and academic goals and how your study abroad program will help meet these goals. Provide examples that show a correlation between the host country and your academic/career aspirations.
Personal Objectives: This scholarship is intended to assist students who have not previously had long-term study abroad experiences. Specify how a longer program in this particular country will help meet your personal goals. Please describe why you think this study abroad program will be personally beneficial and explain your motivations for studying abroad.

Statement of Financial Need
(250 words max)
Write a short essay that explains your need for financial assistance. Be as detailed and candid as possible. This statement provides a good opportunity for you to describe any unusual circumstances that prevent you from paying for your study abroad program and/or affect your current eligibility for other financial aid.
Community Service & Extra-curricular Activities
(300 words max)
Write a short essay articulating what you are most proud of in your community service and/or involvement with extra-curricular activities.
Letter of Recommendation
Recommenders should be someone who can attest to your potential to succeed in a study abroad program (i.e. professor, employer, etc.)
Daniel Sinclair Bredahl Scholarship Deadlines
Spring
October 12th, 2018
Fall & Academic Year
March 15th, 2019