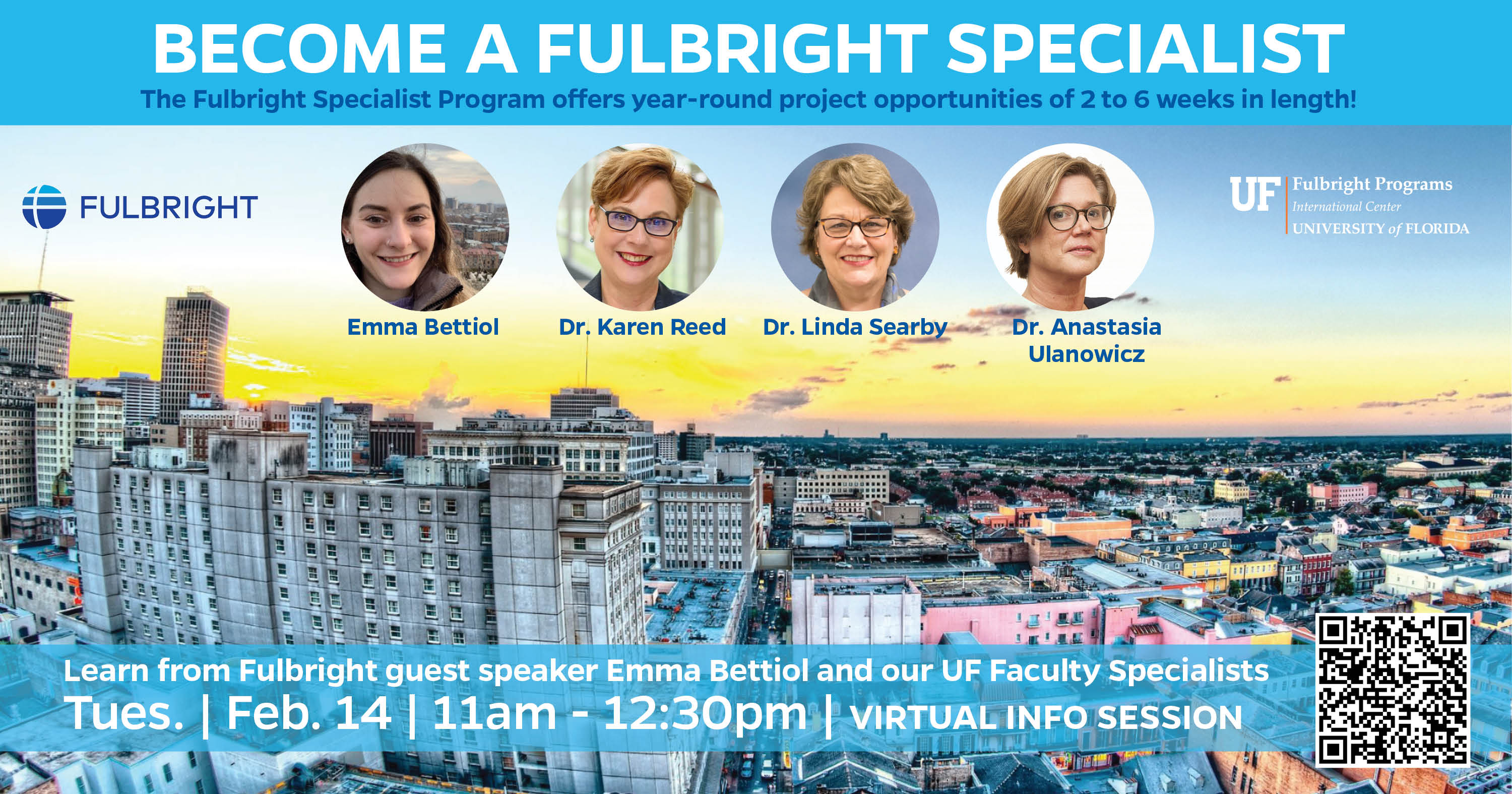 Tuesday, February 14, 2023 -

11:00am

to

12:30pm
Become a Fulbright Specialist
The Fulbright Specialist Program offers year-round project opportunities of 2 to 6 weeks in length!
Learn from Fulbright guest speaker Emma Bettiol and our UF Faculty Specialists.
Virtual Info Session
Register at https://tinyurl.com/42jpdzf8
The shorter duration of this program benefits participants as well as host institutions needing an experienced partner on a short-term basis. UF faculty and highly experienced non-academics, including legal experts, business professionals, artists, scientists, and journalists, are encouraged to apply.
You might be assigned to work on:
• Trainings and workshops
• Consulting on faculty or staff development
• Curricula and materials
• Lectures (graduate or undergrad)
• Strategic or institutional planning
• Needs assessments and evals for programs/institutions
Emma Bettiol is the Senior Program Officer for the Africa and South & Central Asia regions at World Learning. World Learning is proud to partner with the U.S. Department of State's Bureau of Educational and Cultural Affairs to administer the Fulbright Specialist Program. Emma has an M.A. in International Affairs and is passionate about international exchange programming that impacts international development initiatives.
Dr. Karen Reed is a Clinical Assistant Professor at the UF College of Nursing who has been recognized for her work both in the US and internationally. She most recently was awarded a Faculty Enhancement Opportunity Grant to return to Cambodia Summer '23 to collaborate with the Ministry of Health on a WHO project related to Infection Control and Prevention. She is currently a member of the Fulbright Specialist Program Roster with a project in Hanoi, Vietnam, pending.
Dr. Linda Searby is an Emeritus Clinical Professor of Educational Leadership in the UF College of Education. Dr. Searby has published over 30 peer-reviewed articles in mentoring research. Dr. Searby is a past member of the UF Mentoring Task Force, co-leading an initiative to create faculty mentoring academies in all colleges at UF. She was also the founder of the UF Mentoring Affinity Group and serves on the Executive Board of the International Mentoring Association. In 2022, she was was Fulbright Specialist in Canada.
Dr. Anastasia Ulanowicz is an Associate Professor of English at the University of Florida, and affiliate faculty member at the Center for European Studies. Her research focuses primarily on children's literature, comics, and historical fiction. Her new book project studies representations of Eastern Europe in Western comics and graphic novels. She is also co-editing, with Dr. Mateusz Świetlicki (University of Wrocław), the first Anglophone introduction to Ukrainian children's literature. In 2021, she was a Fulbright Specialist at the University of Wrocław in Poland.
For more information contact Dr. Claire Anumba canumba@ufic.ufl.edu. Once registered you will receive a zoom link.