International Scholars Program
The International Scholars Program (ISP) is a graduation medallion program at the University of Florida that helps students develop intercultural competence on a personal and professional level. ISP is a distinction program open to all degree- seeking undergraduate students who are in good academic standing at UF, including transfer students and UF online students. To earn an ISP medallion students complete international coursework, attend international campus events, have an international experience by studying a language or studying abroad, and create an eportfolio. Find more about ISP requirements on the website here.
Getting involved with ISP is as simple as completing the enrollment form. ISP has a rolling deadline for enrollment meaning students can enroll at any time. Ideally, students will enroll during their first year at UF; however, students can enroll up until their senior year. ISP shouldn't delay a student's graduation since ISP credits are not exclusive to the program. Because ISP is a medallion program and not a transcript designation program, ISP course credit can count as part of a student's major, minor, or certificate study. This also means that while ISP courses will affect a student's GPA, finishing or not finishing ISP will not negatively impact a student's GPA or be visible on their transcript.
Who Benefits from ISP?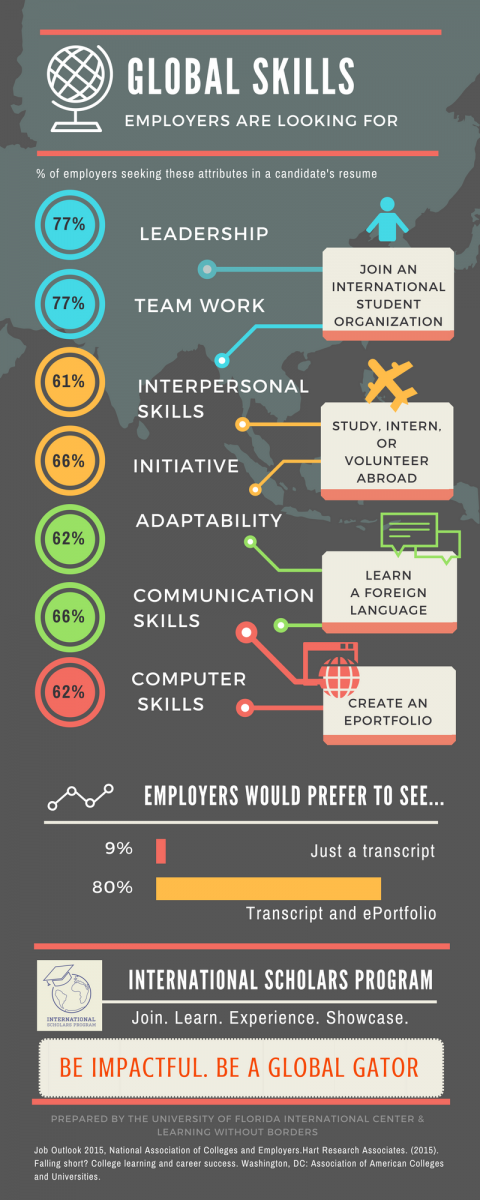 Internationalizing your experience both inside and outside the classroom not only helps you acquire essential international experience and perspective, but also helps you grow as an individual and professional. By stepping outside your comfort zone and engaging in intentional intercultural engagement, you gain skills that are transferable to both personal and career settings.
You will have an opportunity to:
Develop professional career skills
Enhance your global and intercultural skills
Acquire essential international experience and perspective
Grow as an individual and global citizen
Identify new, exciting opportunities for international and intercultural involvement
Upon successful completion of the International Scholars Program, you will be recognized as an International Scholar and be awarded:
An endorsed Acknowledgement of Completion from the UF International Center (UFIC).
An International Scholar Commencement Medallion.
A digital badge as an indicator of the accomplishment.