Global Learning Institute
The Spring 2023 Global Learning Institute Application is now closed.
The Global Learning Institute is a cohort-based semester long program aimed at providing faculty with relevant tools and techniques to make their on-campus courses more global. During the institute, participants receive guidance and support for the development of a new international course or the revision of an existing one.
The program is designed as a:
Collaborative space intended to give faculty access to tools, techniques, and resources to internationalize their on-campus or online courses
Hub for new ideas, where faculty will meet with peers and other professionals to create campus collaborations that support global learning
Guide to campus resources for internationalization, professional development, technology-enhanced global learning, and course design
The Global Learning Institute is part of the Passport to Great Teaching program and qualifies for 750 miles toward the Global Teaching & Learning Certificate. More information can be found here.
Program Participants will gain:
An enhanced teaching toolkit
A collaborative network of like-minded peers
Knowledge of campus and local resources for internationalization
A newly internationalized course with an International Scholars Program course designation
A Global Learning Institute Scholar certificate of award
Professional development funding
Past Participants
1 / 8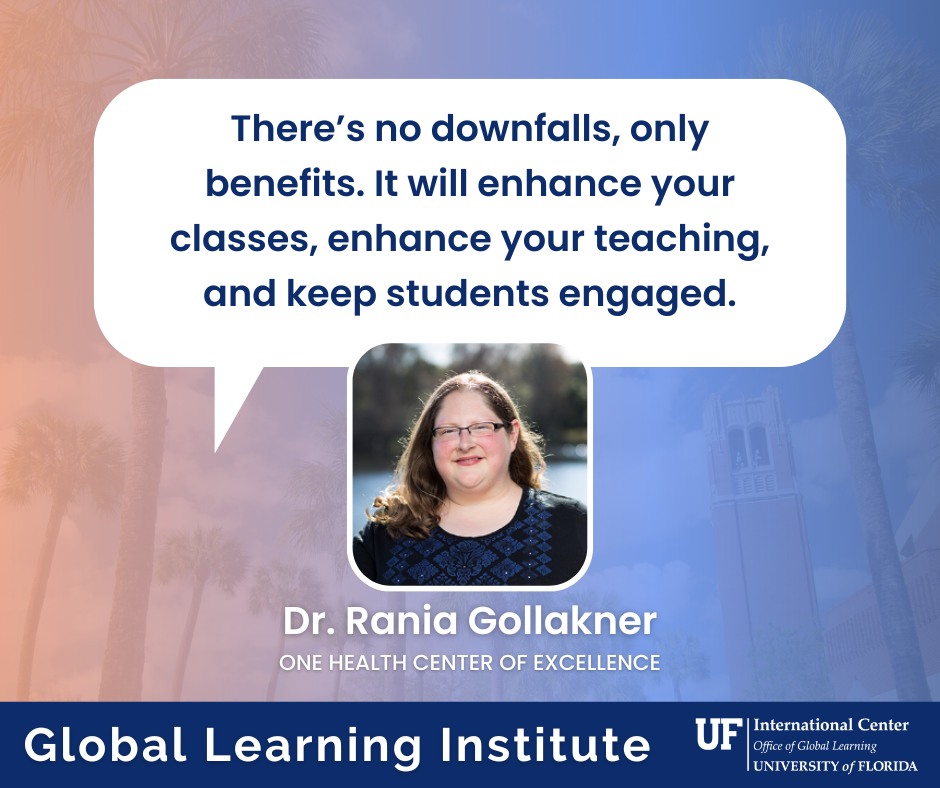 2 / 8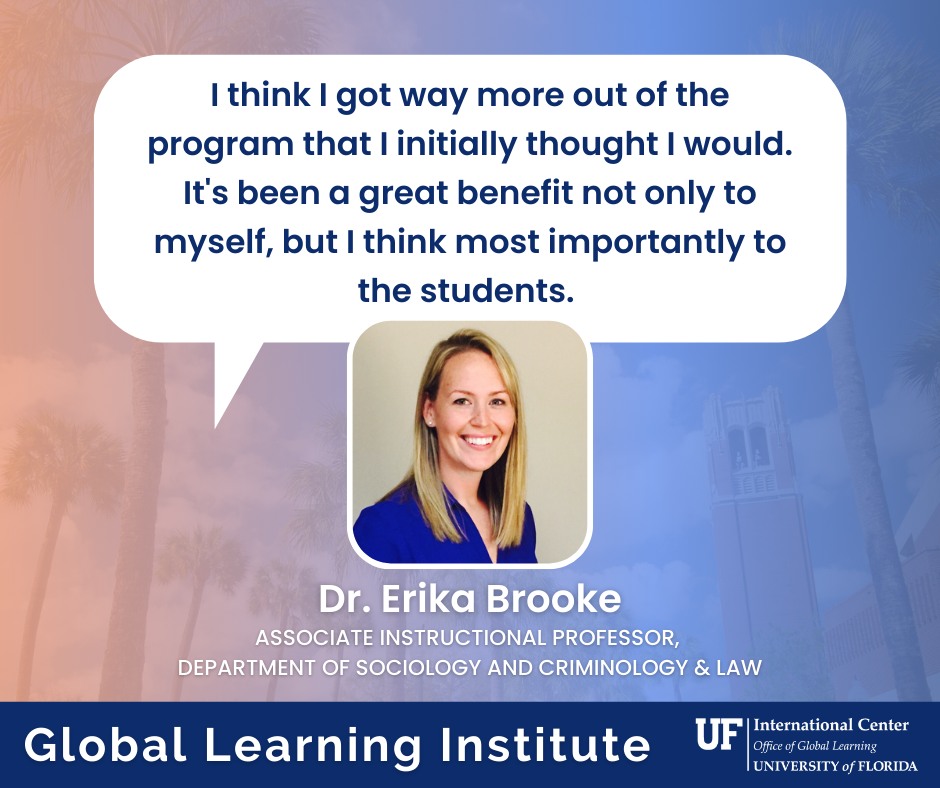 3 / 8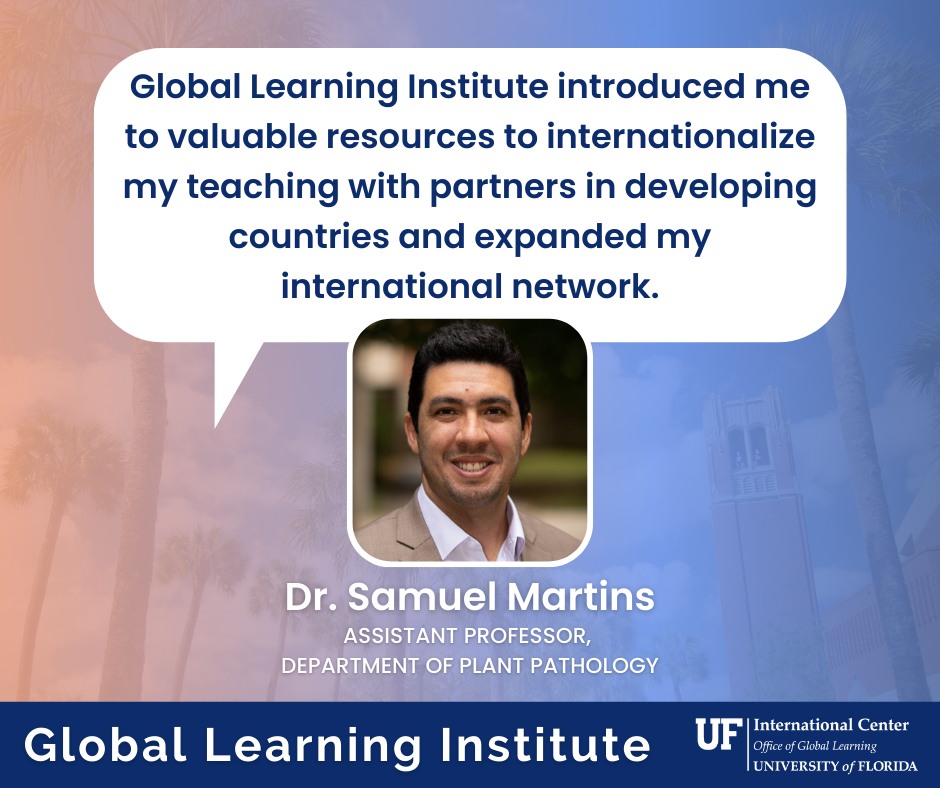 4 / 8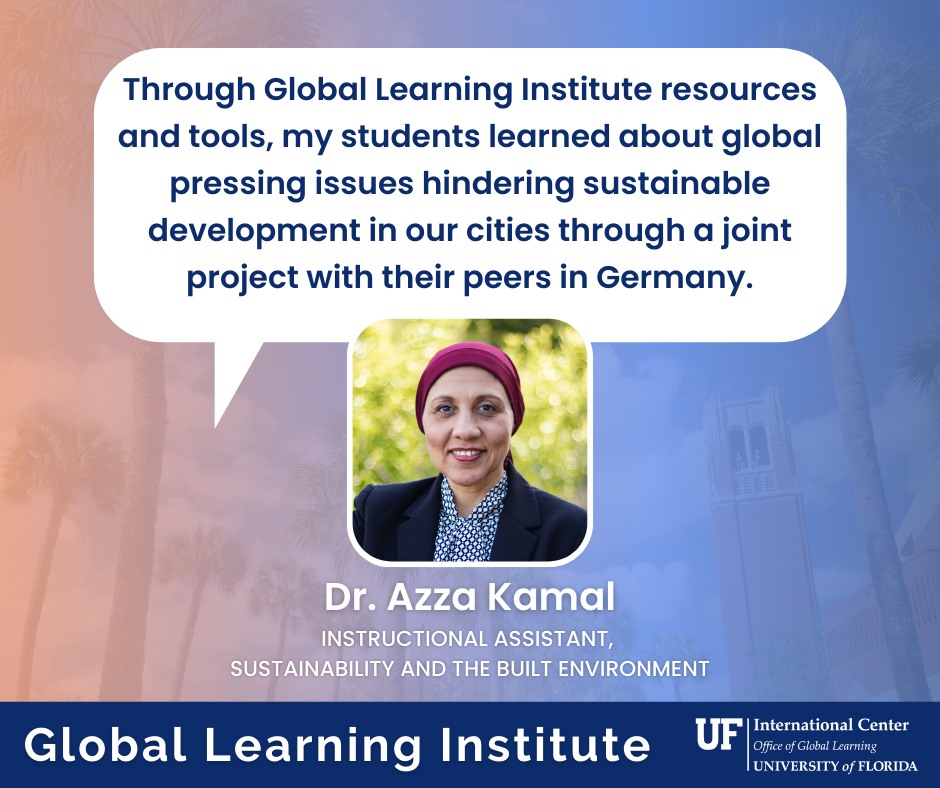 5 / 8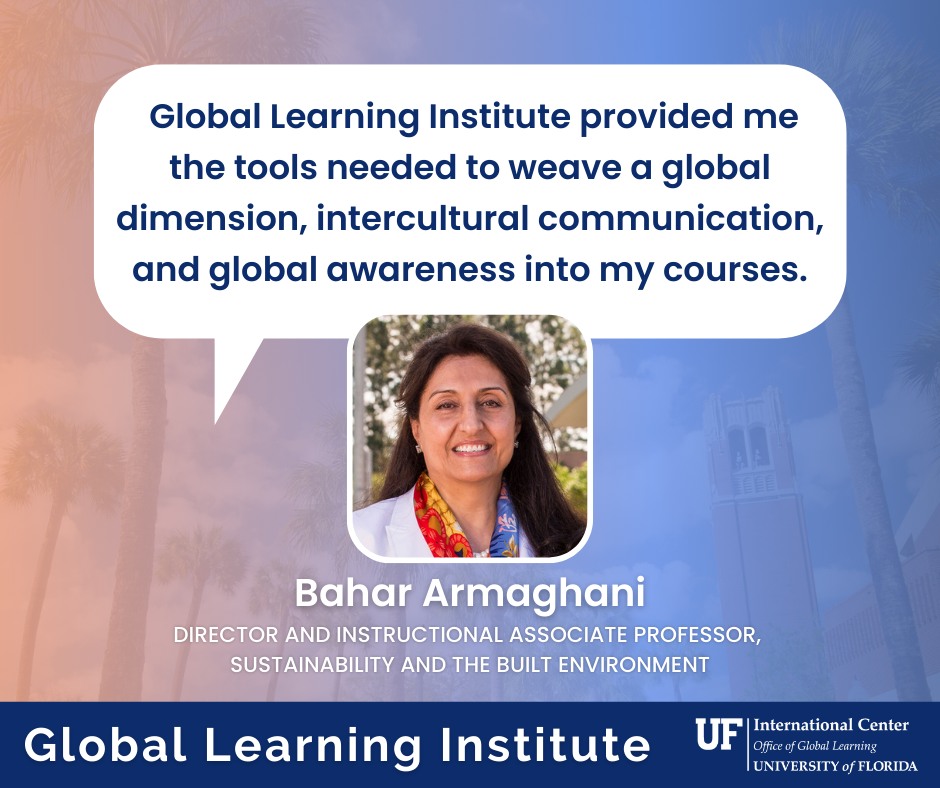 6 / 8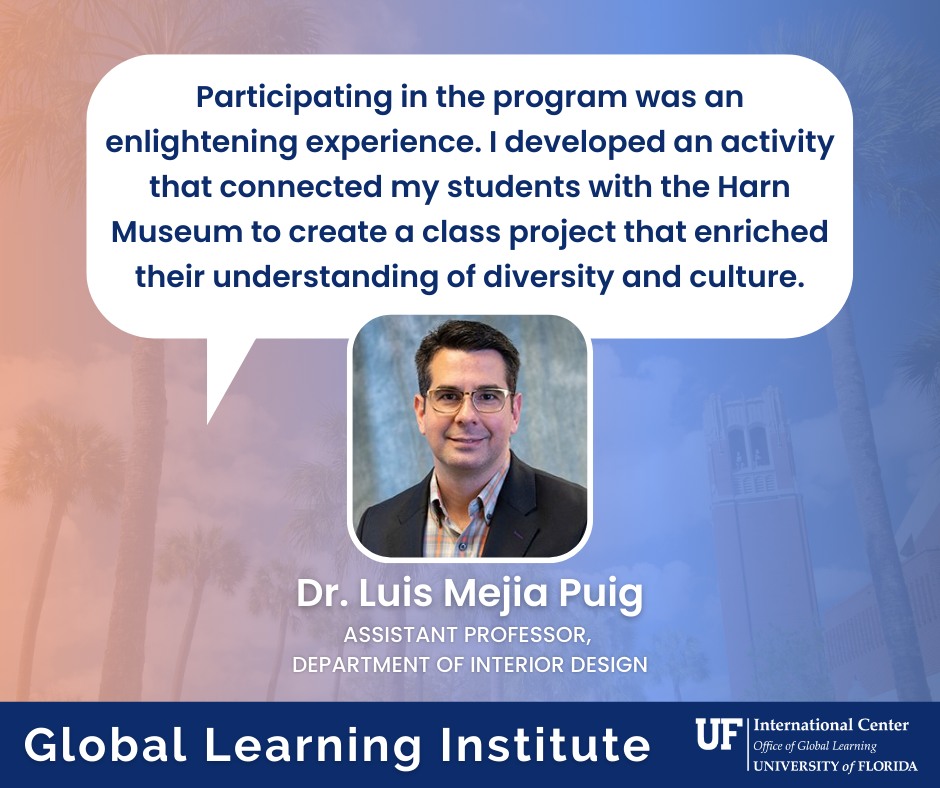 7 / 8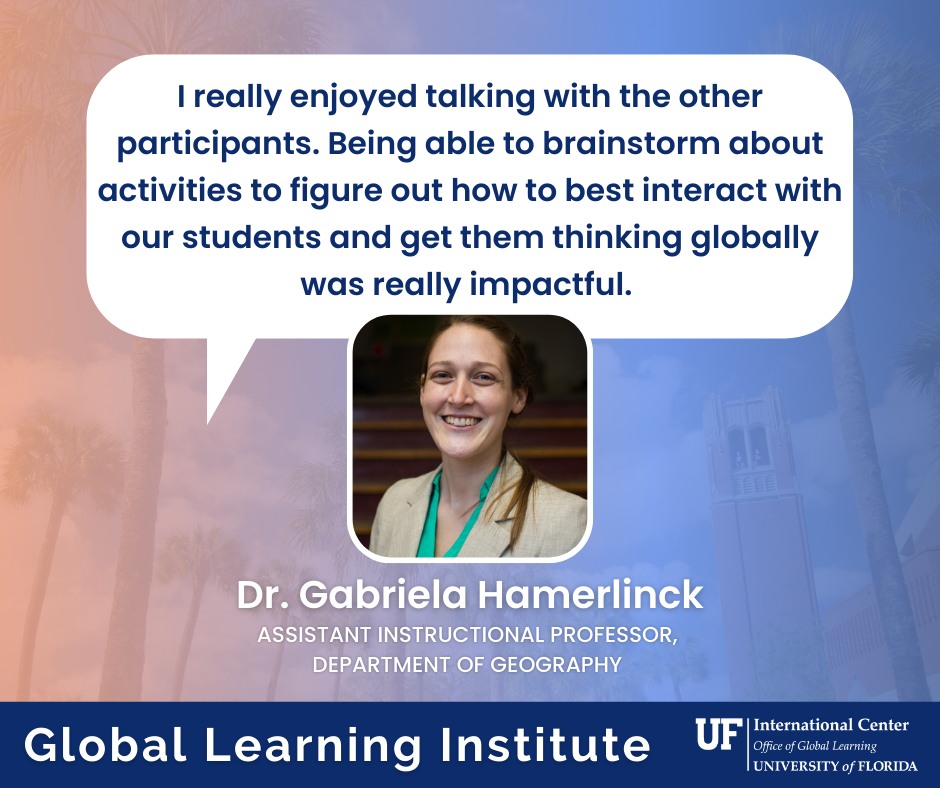 8 / 8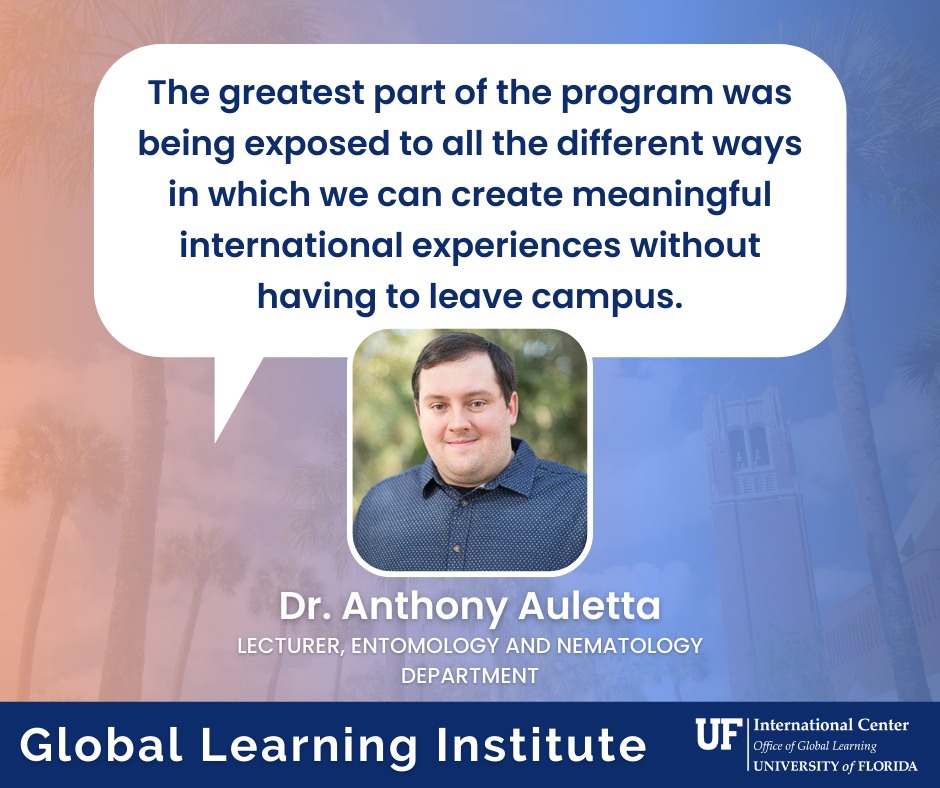 Eligibility
Tenured and tenure-track UF faculty, lecturers, and other non-tenured faculty who have ongoing teaching appointments in undergraduate degree-granting units. Adjunct faculty are not eligible.
We welcome proposals by teams of faculty. (Please note that awards will be divided among the members of the team)
Program Requirements
Participate in collaborative and multidisciplinary conversations with fellow faculty members about curriculum internationalization
Complete a course proposal which will then be implemented and offered as part of the International Scholars Program
Attend the Global Learning Institute workshop series including: orientation, closing symposium, and six of the seven workshops throughout the Spring 2023 semester.
| | | |
| --- | --- | --- |
| Date & Time | Workshop | Location* |
| Friday, January 13th, 2023: 9:00 - 11:00 am | Orientation. Institute goals and structure; meeting the facilitators. | LCR |
| Friday, January 20th, 2023: 9:00 - 11:00 am | What is Curriculum Internationalization? Teaching with the SDGs. | LCR |
| Friday, February 3th, 2023: 9:00 - 11:00 am | Teaching Glocally: Engaging the Campus and the Community | LCR |
| Friday, February 17th, 2023: 9:00 - 11:00 am | Inclusive Teaching & Global Diversity | LCR |
| Friday, February 24th, 2023: 9:00 - 11:00 am | Campus Resources for Global Learning: The Museums | Harn Museum & Florida Museum |
| Friday, March 10th, 2023: 9:00 - 11:00 am | International Virtual Exchange | Online via Zoom |
| Friday, March 24th, 2023: 9:00 - 11:00 am | The Career Value of Global Learning | Career Connections Center |
| Friday, March 31st, 2023 | Active Learning & Assessment | LCR |
| Friday, April 14th, 2023: 9:00 - 11:00 am | Symposium Project Presentation & Faculty Symposium | LCR |
*The LCR (Large Conference Room) is located inside the UF International Center (HUB).
Deliverable
Proposal for a new or revised course
Award
Faculty will receive $2,500 in professional development funds and up to $2,500 to pay for attendance at an approved global learning conference. Some examples of approved conferences include the following annual meetings:
AAC&U: Global Learning . This conference will provides faculty with an opportunity to explore how global learning can be designed to increase equity, reciprocity, and inclusivity.
Diversity Abroad: 2021 Global inclusion. This conference is designed for faculty who are interested in gaining a better understanding of developments in the area of diversity and inclusion in global education.
International Virtual Exchange Conference (IVEC) . This conference focuses on how virtual exchange can be incorporated into university classrooms to facilitate students' development of 21st-century workforce skills via intercultural and transnational learning experiences.
Important Dates
Fall 2022 Information Sessions:
Hybrid session in person at the Large Conference Room, located inside the UF International Center (HUB), or via zoom. Pre-registration required. Please click on the registration link below for the info session that you would like to attend.

Deadline to submit proposal: Tuesday, November 1st, 2022
Proposal Submission Process
Proposal package must include:
Curriculum Vitae (3 page maximum)
Personal Statement of Interest
First complete application online, and then submit an electronic copy of your curriculum vitae, personal statement of interest, and signatures of endorsement to OGL@ufic.ufl.edu.
Questions:
Paloma Rodriguez, Director, Office of Global Learning, University of Florida International Center
E: prodriguez@ufic.ufl.edu
T: 352-294-3334