Global Learning Institute
The Global Learning Institute is a cohort-based semester long program aimed at providing faculty with relevant tools and techniques to make their on-campus courses more global. During the institute, participants receive guidance and support for the development of a new international course or the revision of an existing one.
The program is designed as a:
Collaborative space intended to give faculty access to tools, techniques, and resources to internationalize their on-campus or online courses
Hub for new ideas, where faculty will meet with peers and other professionals to create campus collaborations that support global learning
Guide to campus resources for internationalization, professional development, technology-enhanced global learning, and course design
The Global Learning Institute is part of the Passport to Great Teaching program and qualifies for 750 miles toward the Global Teaching & Learning Certificate. More information can be found here.
Program Participants will gain:
An enhanced teaching toolkit
A collaborative network of like-minded peers
Knowledge of campus and local resources for internationalization
A newly internationalized course with an International Scholars Program course designation
A Global Learning Institute Scholar certificate of award
Professional development funding
Past Participants
1 / 8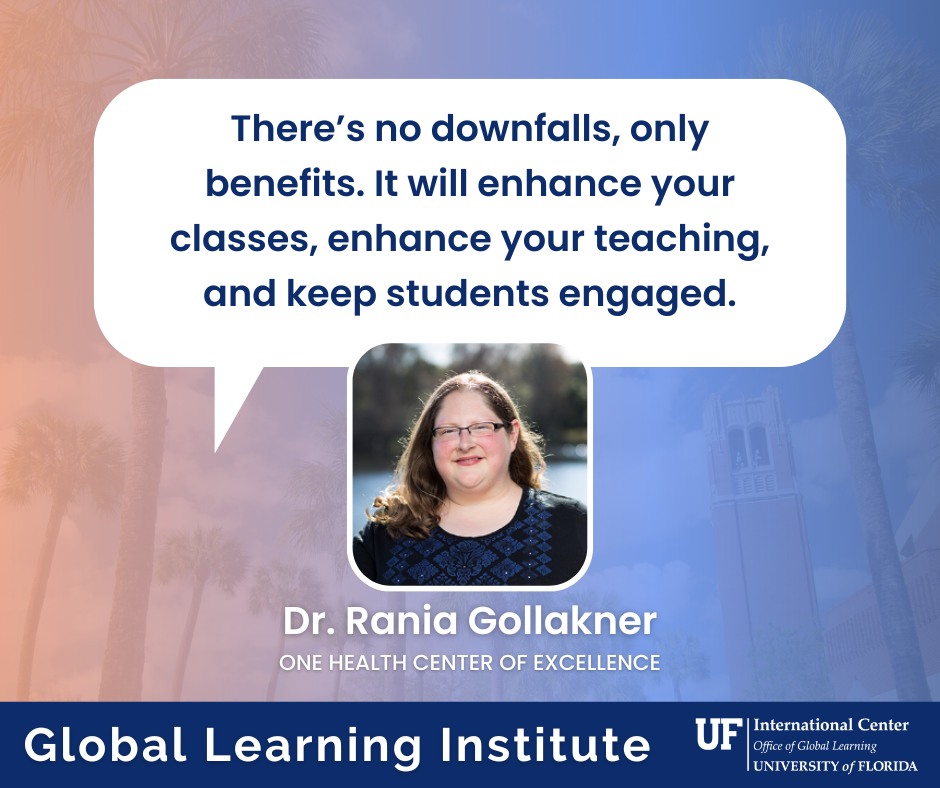 2 / 8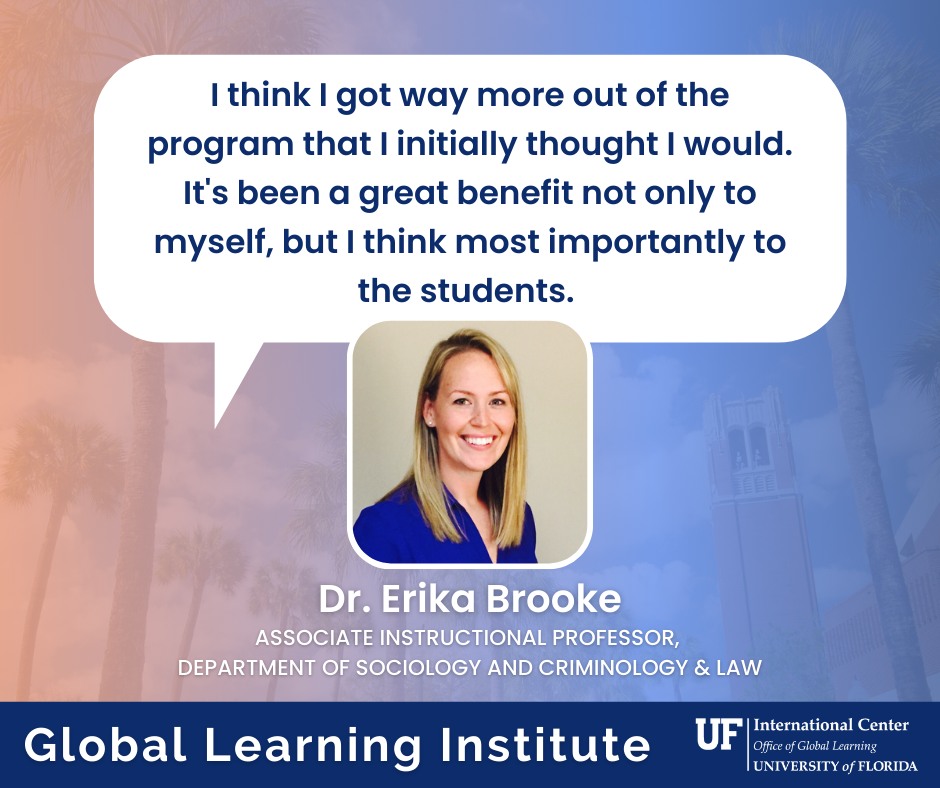 3 / 8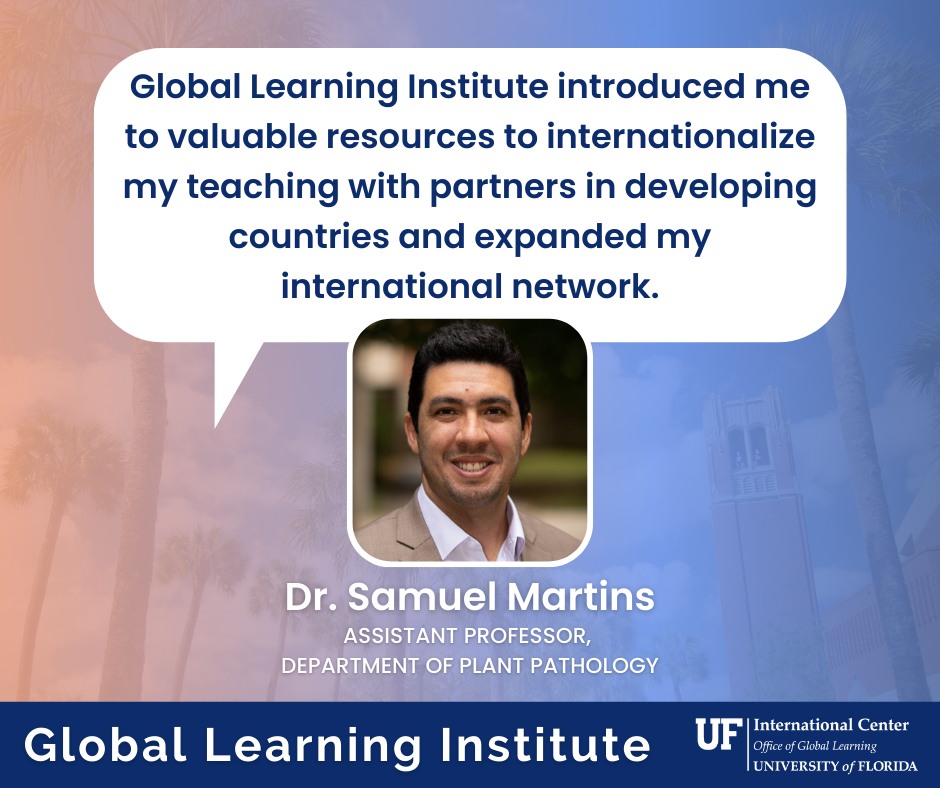 4 / 8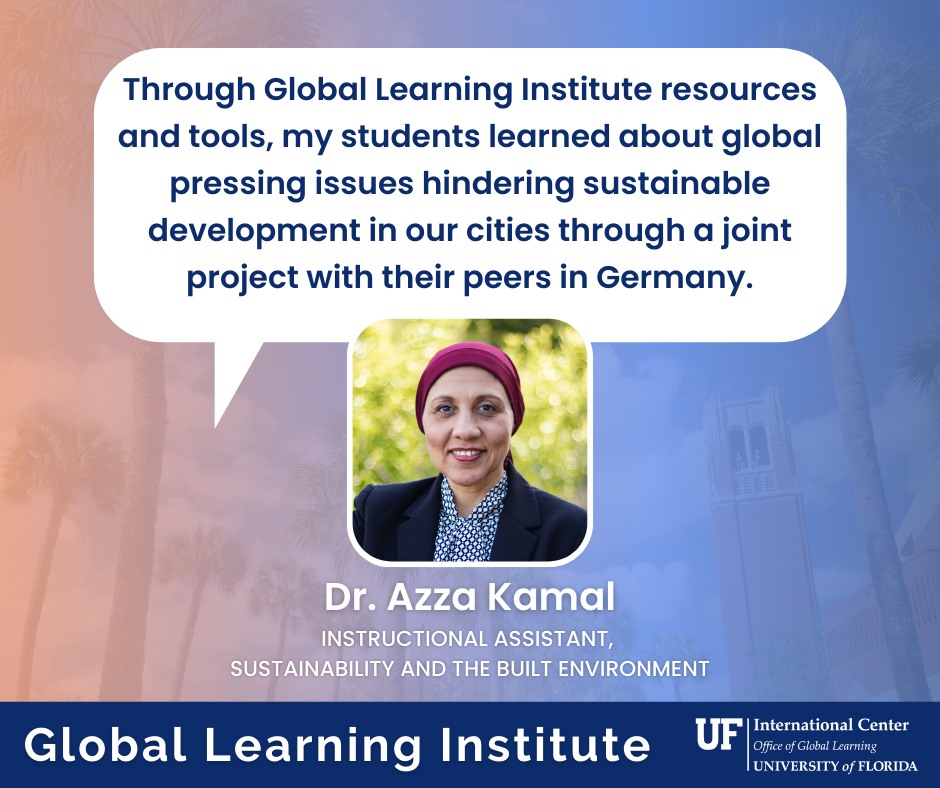 5 / 8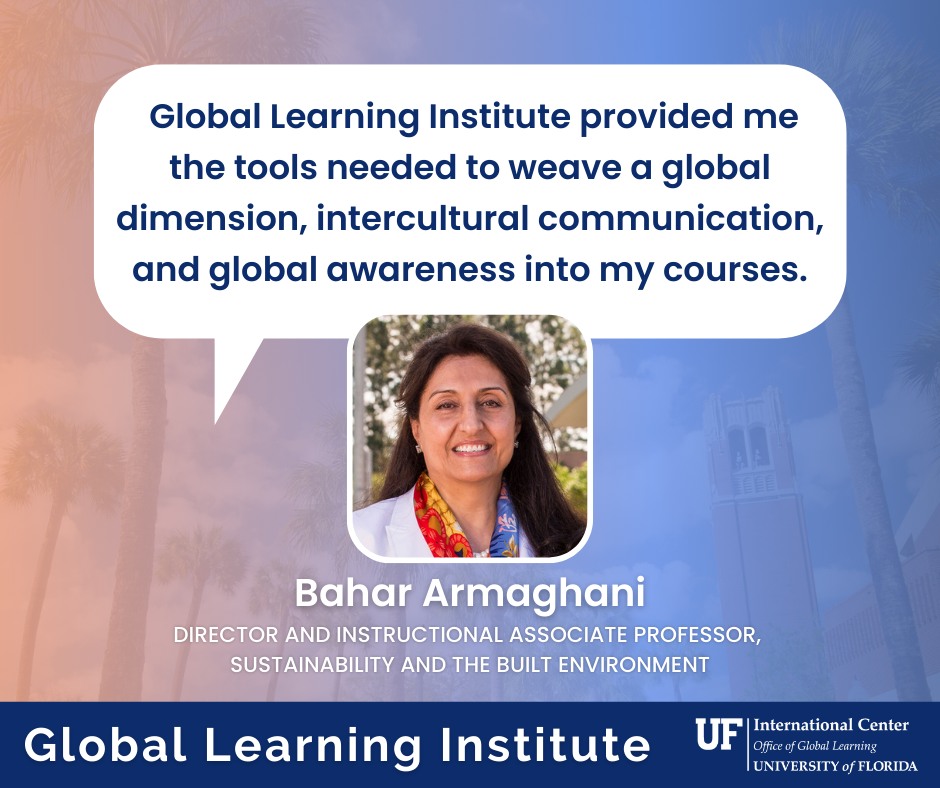 6 / 8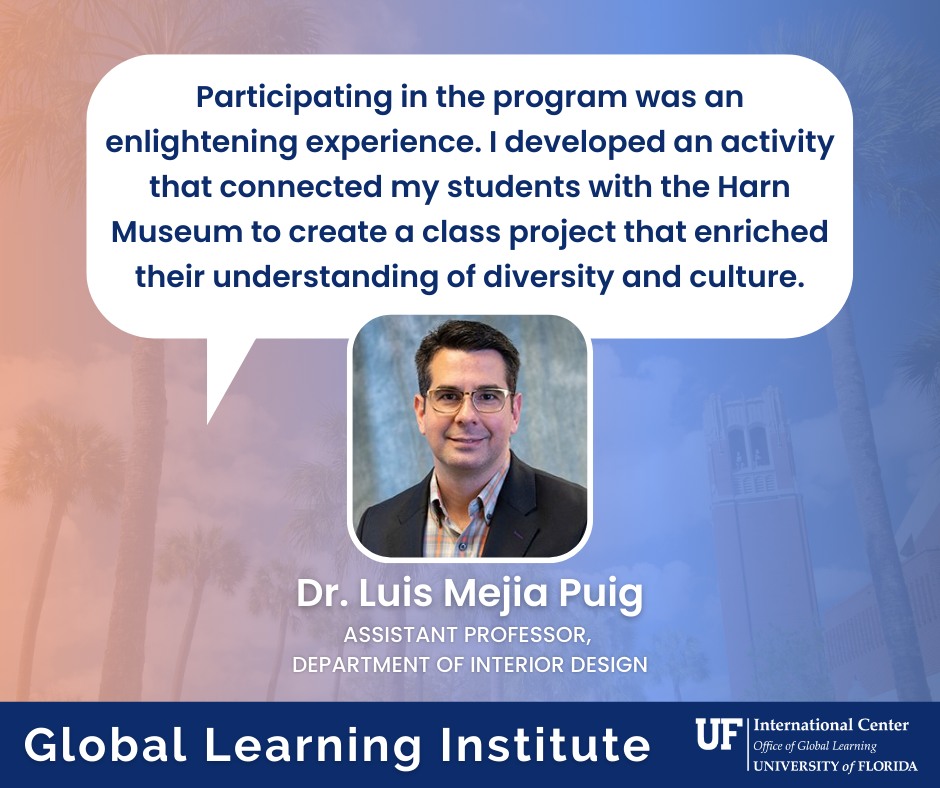 7 / 8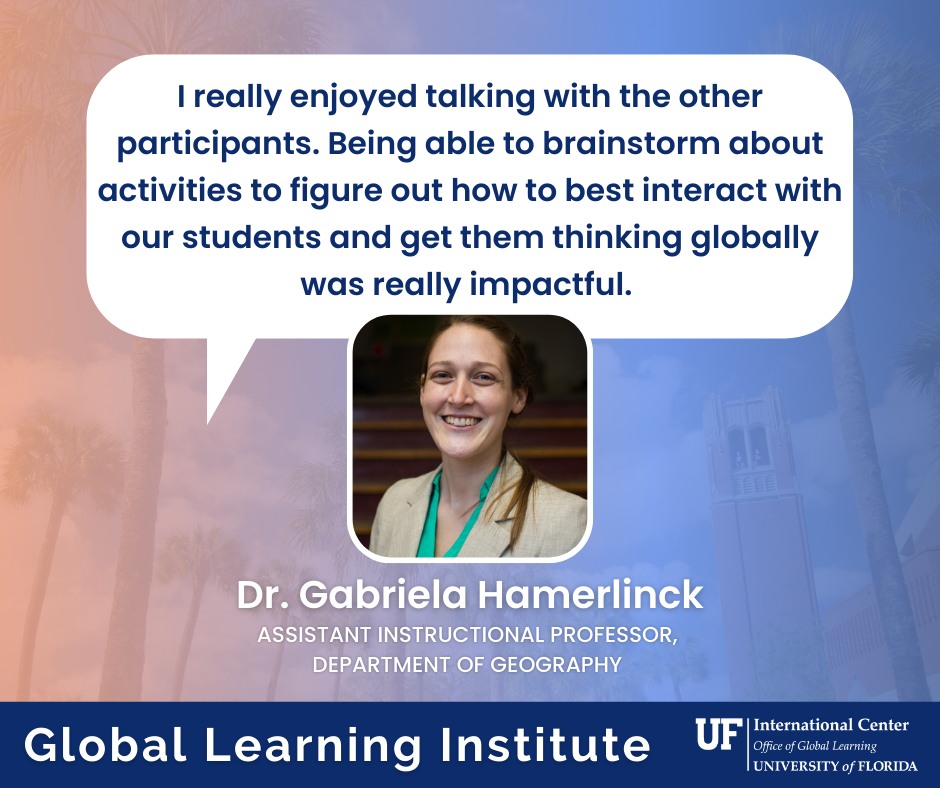 8 / 8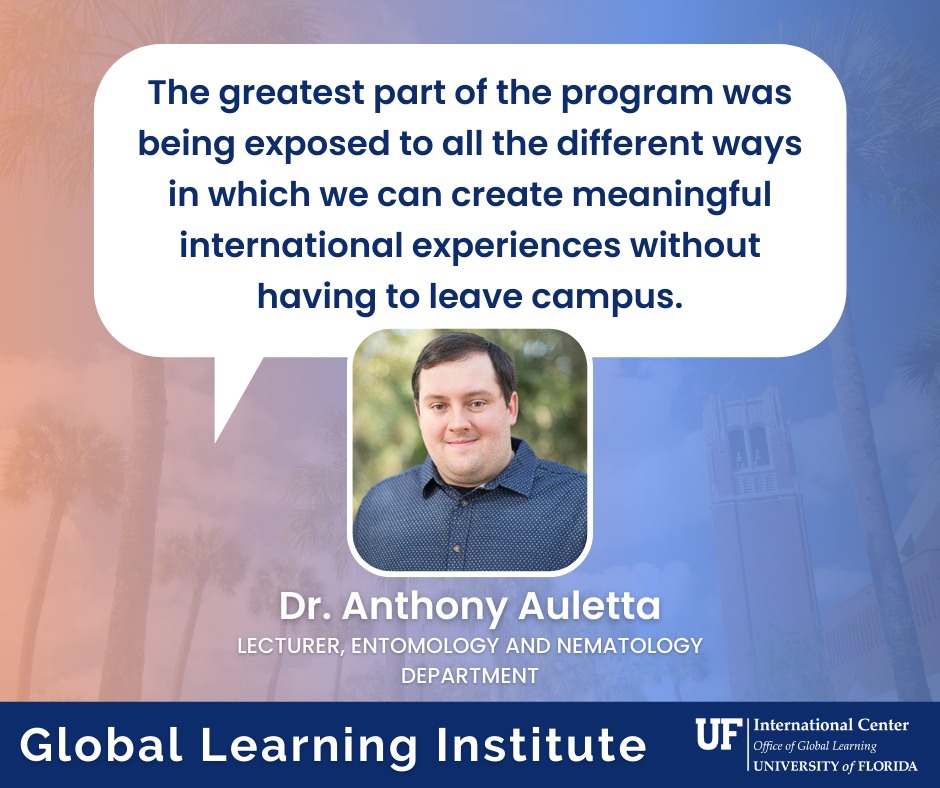 Eligibility
Tenured and tenure-track UF faculty, lecturers, and other non-tenured faculty who have ongoing teaching appointments in an undergraduate degree-granting or graduate unit within a UF College. Adjunct and visiting faculty are not eligible.
We welcome proposals by teams of faculty. (Please note that awards will be divided among the members of the team)
Program Requirements
Participate in collaborative and multidisciplinary conversations with fellow faculty members about curriculum internationalization
Complete a course proposal which will then be implemented and offered as part of the International Scholars Program
Attend the Global Learning Institute workshop series including orientation, closing symposium, six of the seven workshops.
Complete readings and assignments throughout the Spring 2024 semester.
| | | |
| --- | --- | --- |
| Date & Time | Workshop | Location* |
| Friday, January 12th, 20249:00 - 11:00 am | Orientation. Institute goals and structure; meeting the facilitators. | LCR |
| Friday, January 19th, 20249:00 - 11:00 am | What is Curriculum Internationalization? Teaching with the SDGs. | LCR |
| Friday, February 2nd, 20249:00 - 11:00 am | Campus Resources for Global Learning: The Museums | Harn Museum & Florida Museum |
| Friday, February 16th, 20249:00 - 11:00 am | Engaging the Campus and the Community | LCR |
| Friday, February 23rd, 20249:00 - 11:00 am | Global Artifacts and Resources at the UF Libraries | George A. Smathers Libraries |
| Friday, March 1st, 20249:00 - 11:00 am | Intercultural Competence Development | LCR |
| Friday, March 8th, 20249:00 - 11:00 am | International Virtual Exchange | Online via Zoom |
| Friday, March 22nd, 20249:00 - 11:00 am | The Career Value of Global Learning | Career Connections Center |
| Friday, April 12th, 20249:00 - 11:00 am | Symposium Project Presentation & Faculty Symposium | LCR |
*The LCR (Large Conference Room) is located inside the UF International Center (HUB).
Deliverable
Proposal for a new or revised course
Award
Faculty will receive $2,500 in professional development funds and up to $2,500 to pay for attendance at an approved global learning conference. Some examples of approved conferences include the following annual meetings:
AAC&U: Global Learning . This conference will provides faculty with an opportunity to explore how global learning can be designed to increase equity, reciprocity, and inclusivity.
International Virtual Exchange Conference (IVEC) . This conference focuses on how virtual exchange can be incorporated into university classrooms to facilitate students' development of 21st-century workforce skills via intercultural and transnational learning experiences.
Proposal Submission Process
Step 1. Create an application.
Step 2. Complete your Profile and Proposed Course Information in the application.
Step 3. Upload a 200-word biography.
Step 4. Upload a Personal statement and include the following information:
Why are you interested in the Global Learning Institute?
Why would you like to internationalize your course?
What gap this course would fill within your discipline/department?
Your previous international experiences or international engagement; and
Your commitment to attend the workshops and to engage fully in the Global Learning Institute.
Please mention if you have attended any:

Teaching conferences
Professional development series
Workshops aimed at enhancing instruction at UF or elsewhere (including the Center for Teaching Excellence's Passport to Great Teaching Program and any other relevant CTE or International Center workshops)
Step 5. Upload your CV (3 pages maximum)
Step 6. Download the signature document by clicking here. Once signed upload it as a PDF to your application.
GLI applications for the Spring 2024 session are now closed.
Questions:
Paloma Rodriguez, Director, Office of Global Learning, University of Florida International Center
E: prodriguez@ufic.ufl.edu
T: 352-294-3334