Amila Tica moved to Gainesville in 2013 to pursue her Bachelor of Arts in International Studies (Europe track) and English, as well as her minors in French & Francophone Studies and History from the University of Florida. While pursuing her degree, she began working for the International Center as a student assistant, and upon graduation in 2017 began working full time for the UFIC Office of Undergraduate Academic Programs as a Program Assistant and then the UFIC Office of Global Learning as a Program Support Specialist.
Her wonderful experiences working with and advising International Scholars Program students led Amila to pursue an M.Ed. in Student Personnel in Higher Education from the UF College of Education, which she completed in 2020. Currently, Amila is the Coordinator for Exchange Student Services where her focus is serving exchange students, international partner schools, and campus constituents to facilitate successful participation in UF's exchange programs.
Cultural diversity and all things international have been important to Amila from a young age, as she is a Bosnian-American who immigrated to the States from Germany as a child. Her favorite international experience, outside of visiting Bosnia, has been teaching English to elementary and middle school students and interning at a newspaper office in Turkey while an undergraduate student at UF.
Photo: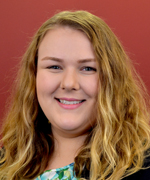 Job Title:
Coordinator, Exchange Student Services