Luis, a Brazilian native, holds a law degree from PUC-Goias, Brazil and a Masters of Law (LL.M.) from Loyola University New Orleans. Prior to coming to the United States, he practiced as an attorney in Brazil. Luis moved to the U.S. to pursue a degree in immigration law because he was particularly interested in the U.S. perspective. While at Loyola, he assisted on pro bono immigration cases and worked with students and clients from various cultures and nationalities.
Prior to coming to UF, Luis served as a DSO and ARO for a small liberal arts college in Pennsylvania, advising students through the immigration process and life at the college. He also worked with faculty and staff across campus to advocate in support of their international and exchange students, and visiting scholars.
At UF, Luis serves as the director and ARO for Exchange Visitor Services. He assists UF's visitors with immigration compliance, processes their immigration paperwork, and coordinates the day-to-day activities of the EVS division.
In his free time, Luis enjoys shopping, spending time with his family, and watching TV shows. He is also a cruise enthusiast.
Photo: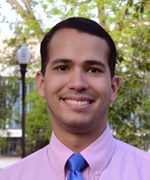 Job Title:
Director, Exchange Visitor Services - ARO (Surnames: A - E)