Maria Selezneva advises for Russia, South East Asia countries and the Law Program.
She is originally from Russia where she completed her Master's degree in Law at the International University of Nature Society and Man, Dubna. After participating in a student exchange program with the United States for two years in a row, she decided to obtain a Certificate in Translation and Professional Communication and move to the US. She lived in WI for past 6 years and is extremely happy to embrace warm and friendly Gainesville as her new hometown.
Outside of the office she enjoys spending time outdoor: hiking, biking, walking her cat (yes, a cat), chilling by the pool; you name it. She also likes yoga, racquet ball and her guitar. She is most fond of travelling, whether it's a lengthy voyage, weekend getaway or a quick road trip. She has travelled across 28 states and has been to several European countries so far.
Photo: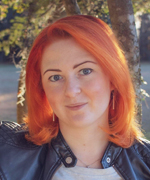 Job Title:
Senior Study Abroad Advisor